How Much the RAM 1500 can Tow: Around the Farm
How Much the RAM 1500 Can Tow: 

Around the Farm
We all need a trusted, dependable, and comfortable pickup truck to use on the farm, as they always come in handy for everything from quick trips to the barn for bed & breakfast runs to hauling equipment like water tanks. Their strength and sturdiness are what draws us to choosing the right pickup, and the 2019 RAM 1500 is surely a perfect match for any type of farmer.
When shopping for a truck, many farmers in need of a pickup take factors like payload, towing capacity, torque, and ground clearance into consideration. On the RAM 1500, you can expect:
Maximum payload of up to 2,300 pounds
Up to 12,750 pounds max. V8 towing capacity (6,730 standard)
Minimum 10.3 inches of ground clearance

Available Active Level Air Suspension allows you to increase ground clearance at the flip of a switch

410 @ 3950 RPM of torque
As you can see, the 2019 RAM 1500 is more than capable of handling everyday tasks, but how does it hold up around the farm?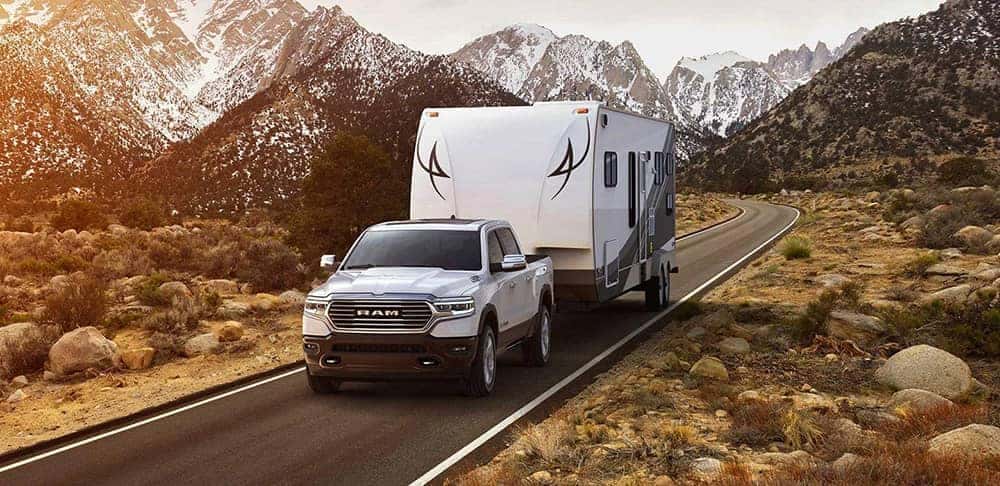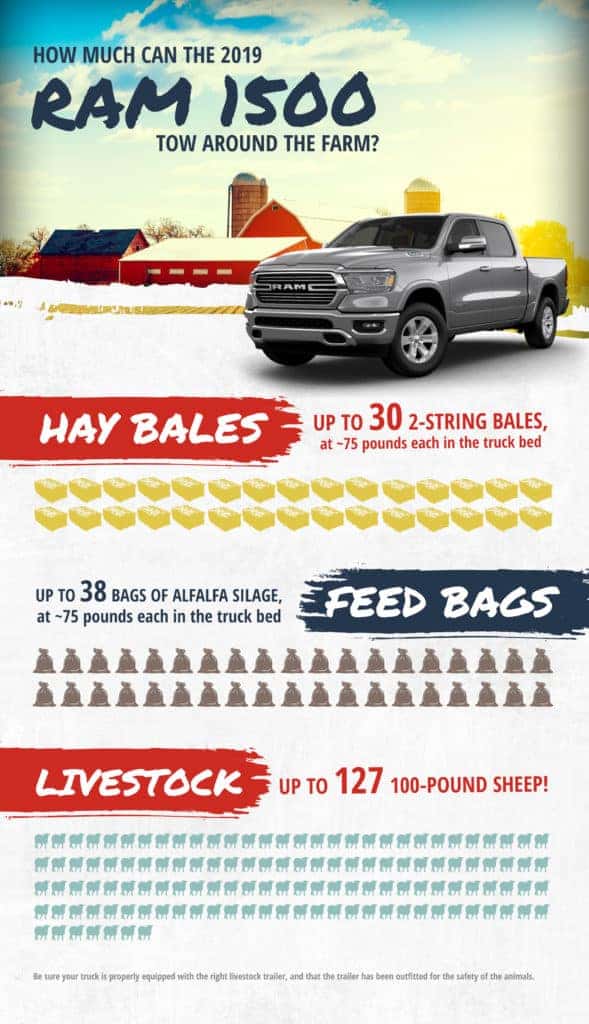 When properly equipped, the RAM 1500 can take on whatever tough task you need it to do. It's able to be hitched up to both a gooseneck and standard receiver trailer, and it sports a durable bed so hauling and towing is not an issue.
So, when you want a pickup that's a true Cowboy Cadillac, look no further than the RAM 1500.
Loading, Hauling, and Transporting: Things to Keep in Mind
Before loading and hauling, always ensure that you are not exceeding the legal weight limit when out on the open road. Exceeding these limits can result in a hefty fine. Additionally, when transporting livestock, be sure that you keep your animals healthy and safe, and you load them in the proper trailer to reduce stress.